So today I have a review of the most fantastic contemporary reads I have read this year
by far
. Now, if you have no idea what these books are all about, then I suggest you stop buying your copies of
Game of Thrones
and pick these up, pronto!
If any of you know me at all, you will learn that I am not really into the whole contemporary style thing. I love living in worlds that are different than my own. I love living in the dystopian worlds where they have to overcome the government just to survive and make the change. But these books, they make me feel things I never thought a girl like me could feel before...and that is saying something.
The first book,
Anna and the French Kiss
, is about a girl named Anna who is a film reviewer. She runs a blog (much like me) and writes reviews on movies she sees and critiques them. Her parents have shipped her off to boarding school, get this, in
Paris.
Who wouldn't want to live in the beautiful city of love and go to school, right? Well, it's there she meets the cocky and all too handsome, and very off limits, English boy, Etienne, or St. Clair as he seems to prefer.
The first book was flawless, I mean, come on guys, Etienne, as small as he may be in height, he makes up for it in charm! This book literally blew me away and when I reached that last page I literally said to myself out loud at work, "This can't be over." I was just in awe of the perfection this story has created. Before I read this book, I had no aspiration to even visit Paris, but after reading this book, will some English boy please come and take me to Paris, stat? Someone fall in love with me? Please.
Lola and the Boy Next Door
is the second novel in this "series." Now, the unique thing about this series is that it doesn't necessarily need to be read in order. However, if you would like to know more about St. Clair and Anna, I would suggest reading the book I just reviewed first because their characters are tied into this one. I would say the series is more of a bunch of companion novels meaning that they themselves could be stand alone novels. When that book is finished, there is no more to their story and I love/loathe it because I want to know more right away, but it was perfect where Perkins ended it.
Now Lola is a girl who was adopted by her biological uncle and his partner. Yes guys, you read right, "partner." Stephanie Perkins blew me away by going into something I am finding still so uncommon in literature today and that is gay parents as the main character's guardians. So I applaud you, Stephanie Perkins, because this was phenomenal. Anywho, Dolores Nolan, Lola, is an eccentric girl who loves creating costumes and has a rockstar boyfriend named Max. When her new/old neighbors move back home, her whole life is kind of turned upside down. Well, more than it was when her birth mother turned up for them to help once again.
I think I loved this book ten times more than the first one. There. I said it. I was just so pulled into the story of Lola and Cricket that I couldn't help but smile at the thought of falling in love with a boy out my window. Sorry, spoiler, they fall in love. I mean, Cricket isn't as perfect as Etienne, but he's Cricket. You know, he's that character in a TV show that you couldn't see yourself falling in love with, but you would date him because he is cute in his own way. You know, that kind of guy?
The feelings I felt in this book were just... indescribable. Lola's life had me sucked in because it was more of problems that I can relate to than Anna. Lola had parents who were far too strict whereas Anna's were more lenient. Lola's dads were probably the highlight of this novel, they were funny and just good parents. They weren't airheads like most novels I read. Her dads tried so hard to not be the stereotypical gay people and sometimes, it showed and they even acknowledged it. I laughed out loud at the end when one of her dads said he was trying so hard not to say fabulous.
I would recommend these two books to anyone who has a heart. Anyone who wants to feel romanced for the night because, my friend, these books are for you. No, this is not
Twilight
nor some cheesy Nicholas Sparks novel, this is a one of a kind book. These two couples aren't perfect, in fact, they are flawed...like us. Go pick these books up! Now.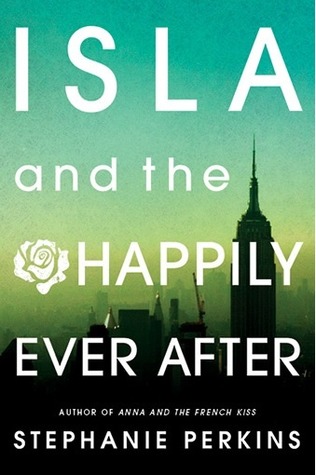 August 14, 2014 is when the third book in this companion series is released. It's called Isla and the Happily Ever After. I personally am ecstatic to pick up this book and just love it forever and ever. I may even cry when it's over.
Word to the wise, if you know anything about this series, you will know there has been a cover change after the second book (annoying, I know). However, if you're like me and ordered the pretty new covers and want the third book now and want the covers to be similar in size, I would recommend preordering from bookdeposiotory. I recently purchased a soft cover edition of a 2014 release, though it may be slightly taller than the other books in its series, they are all at least soft cover.